What is LED?
LED stands for Light Emitting Diode. LEDs are much different and far more efficient than incandescent light bulbs. LEDs consume far less electricity, requiring only 1/10 to 1/40 the energy of incandescent bulbs.
What is LED Display?
LED display is a new way of displaying your advertisement and it helps to increase your businesses sales. It has a pre-installed images and letters those can produce any kind of messages and advertisements.
LED display colours
Mono Chrome (Single Color), Tri-Color (Red, Pure Green, Yellow)(Red, White, Pink)(Red, Pink, Blue), or Full Color displays
Resolution / Pitch
More resolution means better picture quality. In our LED displays, we determine the resolution by its pitch. Pitch is the distance between each light in the LED Display. The smaller the pitch number, the higher resolution picture because there are more pixels in the area. The bigger in pitch number results less pixels, which results in lower picture resolution.
Advantage of LED Sign
1. Advertise 24/7/365 with at no cost.
2. Create your own advertisements and messages.
3. Easy to change and edit your advertisements and messages.
4. Capture customer's attention.
5. Efficient energy saving.
6. Easy to install and remove.
Why Buy from Lumitron LED Signs?
1. Multi Languages: English, Spanish, Korean, Chinese, Japanese, Russian and more.
2. Various images
3. Easy to use remote control
4. Various features: temperature, time and date, stop watch, humidity.
5. Easy installation with the kits.
6. Long life time: 100,000 hours (12 years)
7. Energy efficient
8. Assembled in United State with S. Korean products.
9. Custom manufacturing available
10. Full Warranty: A full 1 year warranty.
Use
Restaurants, Bars, Convenience stores, Auto dealerships, Gift shops, Schools, churches, Hotels, Banks, Shopping centres, Petrol stations, Grocery markets, Dry cleaners, Laundromat, Doctor offices, Coffee shops, and any all businesses.
SUMMARY
Selecting an LED sign should be driven by the business or organisational objectives you hope to meet by purchasing an LED sign. An informed buyer knows the right questions to ask and what features to consider. You might think this process is complex. Not to worry. There are a few basic guidelines, some good questions to ask and a few things to look for that can help you make the decision with confidence.
"10 Things OVERVIEW"
What is an LED sign?
How does an LED sign work?
Who should consider investing in an LED sign?
How do LED signs compare to other forms of advertising?
How do I choose the right LED sign?
How much should I budget for an LED sign?
How do I choose a local sign partner?
What are the steps once I decide whom I want to work with?
Why should I consider LUMITRON LED signs?
If I'm interested, how do I move forward?
WHAT IS AN LED SIGN?
An LED (light emitting diode) is an efficient, effective and ultra-bright alternative to incandescent light bulbs. Unlike traditional light bulbs, LEDs do not burn out because there is no filament. Instead, they just slowly dim over a long period of time (about 100,000 hours or 12 years).

An LED sign is made up of individual modules (about 12″ square each) with LEDs mounted on them. The modular design allows the signs to be configured to almost any size. LED signs are typically double-sided and are available as monochrome or full colour. A common size for commercial LED signs is 320mm high x 1920mm wide.
Messages can be programmed and scheduled easily using remote control or computer
(with software we provide).
HOW DOES AN LED SIGN WORK?
It works through a standard PC that connects to the sign via one of these four methods;
Broadband Wireless
Radio Frequency (RF) connection
Phone modem (similar to a dial-up Internet connection)
Fiber Optics
Corporate Network (LAN or other)
The software allows the user to program and change messages on the sign. The marketing department often manages programming. The programmer chooses from a menu of text and animation options and creates a schedule of messages, sometimes setting a schedule weeks or even months in advance. Prepackaged graphics, web graphics and original graphics can all be part of the messaging mix.
WHO SHOULD CONSIDER INVESTING IN AN LED SIGN?
Anyone who relies on business from passing by traffic should consider LED. If your business or organisation is visible from the highway or a busy street – whether it's vehicular traffic, pedestrian traffic or both you should consider advertising with an LED sign. In addition, if you've already invested in more expensive advertising to reach your audience, you should consider an LED sign. What's more expensive, you ask? Read on.
HOW DO LED SIGNS COMPARE TO OTHER FORMS OF ADVERTISING?
Just look at how LED signs stack up. Compare an LED sign in terms of the number of impressions, cost per impression and how much it costs on a per-day basis. It beats newspaper, yellow page and radio hands down. And only with an LED sign can you change your message fast and quick. LED signs can be used to quickly reduce inventory or boost site-specific and time-specific sales – perfect for a restaurant that wants to clear out perishable food items by offering a limited-time special, for instance
Yellow
Directory
Radio
Newspaper
LED SIGN
Full-Page Ad
4,000
Average Daily
Audience Ad
4,000
Sunday
Readership
17,000
Passing
Mortorists
34,600
$2.25
per 100
impressions
$2.09
per 100
impressions
$4.14
per 100
impressions
$0.03-$0.06
per 100
impressions
$90
A day
$243
A day
$704
A day
$10 to $20
A day
*Typical or average prices shown
*Based on 1/10th of population accessing daily
HOW DO I CHOOSE THE RIGHT LED SIGN?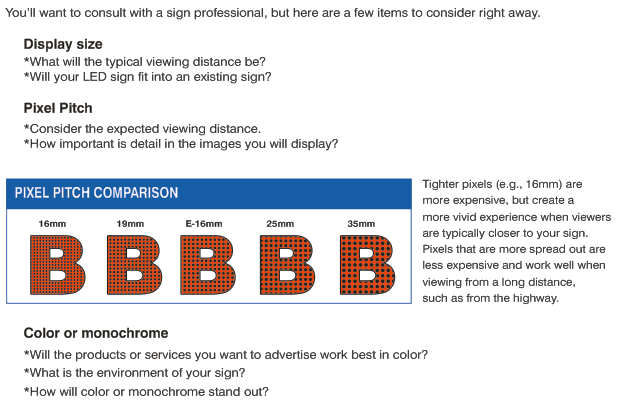 Here's a helpful guide as you consider which LED sign will work best for you:


HOW DO I CHOOSE A LOCAL SIGN PARTNER?
Before asking"How" you might ask, "Why?" Here's why you should choose a local sign partner:
They're probably intimately familiar with your local sign ordinances
In the same spirit, they're probably also familiar with the local political structure
Your local partner can handle every facet of installation and service!
Just a couple more things to consider when choosing your local sign partner: LED sign installation experience and LED sign service experience. If you find either of these lacking, keep looking.
WHAT ARE THE STEPS ONCE I DECIDE WHOM I WANT TO WORK WITH?
A brief overview of the process looks like this:
Determine the specifications of your size, colour, position and pixels.
Coordinate price quotes with your local sign partner.
Consider a factory tour. The Knowledge you gain can be invaluable.
Seek references. Check them.
Take job site photos. This will help your internal sell and mock-up.
Finalise the sign design.
Place your order.
4-6 week turnaround is typical for American companies.
Local company installs.
LED sign manufacturer provides software-training basics.
WHY SHOULD I CONSIDER LUMITRON PTY LTD?
An LED sign is not only a smart advertising investment, it's an investment in your connection with your customers. LUMITRON PTY LTD maximises the return on your investment by making the best-looking signs on "Main Street." LUMITRON LED signs make everyone look good. Here's how:
Industry's best 1 year warranty
Intuitive, easy-to-use remote control
In-house art production team
Longstanding relationships with top local sign dealers
IF I'M INTERESTED, HOW DO I MOVE FORWARD?
Please contact us